BEST IN SHOW OR RUNNER UP BEST IN SHOW AT ALL BREEDS SHOWS
1977, 1986, 1987, 1988, 1990, 1995, 1998, 2000, 2001, 2002, 2003, 2004, 2008, 2009, 2010, 2011, 2012, 2015, 2016, 2017
BEST IN SHOW OR RUNNER UP BEST IN SHOW AT RHODESIAN RIDGEBACK SPECIALTY SHOWS
1988, 1989, 1991, 2001, 2002, 2003, 2004, 2005, 2006, 2007,2008, 2009,2010, 2011, 2012, 2013, 2014, 2015, 2016, 2017, 2018
MOST SUCCESSFUL BREEDER AWARDS ACHIEVED IN
1982, 2000, 2002, 2003, 2004, 2005, 2006, 2007, 2008, 2013, 2015, 2016, 2017, 2019
MOST SUCCESSFUL BREEDER
2004 RR NATIONAL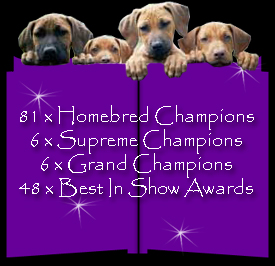 81 x HOMEBRED CHAMPIONS
6 x SUPREME CHAMPIONS
6 x GRAND CHAMPIONS
48 x BEST IN SHOW AWARDS
I would like to thank the many people in various countries who have purchased and shown Chilolo Ridgebacks over the past 30 plus years and who have provided my dogs with such good homes. Without your support, the above record would not have been achieved.
My sincere thanks to you all.
To the best of our knowledge, no other Rhodesian Ridgeback breeder in Australia has achieved such consistent results over such a long period of time. Please take some time to look at our gorgeous past and present RRs on the following pages and feel free to contact us anytime.
Rosemary Green
Queensland, Australia
Ph: 0410 651 756
Member of:
Queensland Canine Control Council, Royal New South Wales Canine Council,
RR Club of Queensland, RR Club (New South Wales), RR Club of Western
Australia, RR Club of South Australia, RR Club of United States,
RR Club ofGreat Britain, RR Club of France
ANKC, AKC, FCI All Breeds Judge and
Rhodesian Ridgeback Specialist